JR Machine Advances Automation Capabilities for Complex Machined Parts with Two DMG MORI NZX 2000 CNC Machines Installs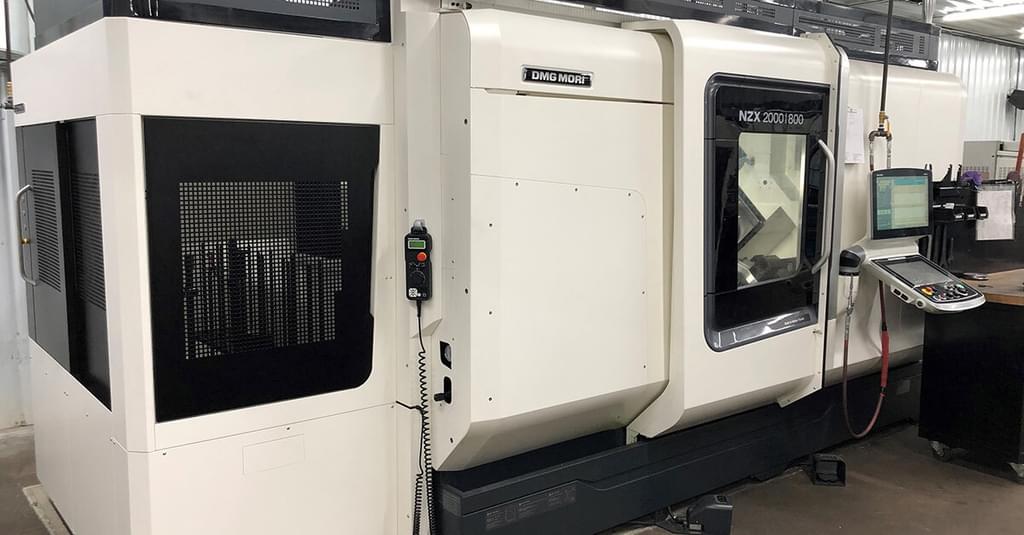 Shawano, Wis. (April 2, 2020) — JR Machine, a contract manufacturer focused on streamlining the production of complex machined parts, announced it has installed two DMG MORI NZX 2000 automated CNC systems at its Shawano, Wis., headquarters. The new machines strengthen the company's commitment to automation while increasing its production capacity for highly accurate and reliable machined parts, typically ranging from 1-10 inches in diameter and up to 28 inches in length. Each high-precision multi-axis turning machine features two spindles, three turrets, automated gantry loaders, and touch screen CELOS controls. They are the only DMG MORI NZX configured with a gantry system in the Midwest and increase production efficiency up to 20-35%, supporting shorter lead times, depending on the part.
The new installation further advances JR Machine's strategic investments in manufacturing automation, focused on enhancing their customers' experience of outsourcing complex parts by increasing uptime, enhancing the accuracy of machined parts, and expanding the size of parts JR Machine can produce. Other investments in automation include an auto-feed CNC sawing machine and software that provides actionable data to manage output and monitor production issues.
"From our collaborative culture to rapid response times, everything we do at JR Machine is focused on streamlining the production of complex machined parts for our customers," explains JR Machine President, Tim Tumanic. "This is especially valuable now as manufacturers work to address the unprecedented challenges in our current environment. The addition of the two new DMG MORI NZX 2000s strengthens our automation platform, increases employee efficiency, and results in greater accuracy of our customers' parts."
To continually enhance its manufacturing services and provide real value to customers, JR Machine regularly invests in technology, plant layout, and operator training. The company's current equipment configuration allows one operator to work on two single-turret machines simultaneously. With the addition of the new two-turret DMG MORI NZX 2000s with automated Gantry loaders — designed to shorten cutting time, reduce set-up time, and increase operator efficiency — a single machine operator at JR Machine will be able to more than double their current output.
The company has incorporated key features into their DMG MORI NZX 2000 configurations:
Full horsepower and capacity on both spindles

Capable of simultaneous turning/milling on main and sub spindle

Three turrets with live mill/drill tool heads

Y-axis for heavier cuts

Auto-loading gantry for shaft and disc type parts

Celos app driven control
JR Machine has developed a strong partnership with DMG MORI in recent years. In 2017, the company made a $2 million capital investment in four DMG MORI NLX2500SY sub-spindle lathes with axial and radial live tooling and four DMG MORI NLX2500Y with axial and radial live tooling. The two companies work in partnership to develop configurations that allow JR Machine to provide the highest level of service possible to OEMs and tier one or tier two manufacturers.
---
About JR Machine
JR Machine is a sophisticated contract manufacturer producing complex machined parts. Based in Shawano, Wisconsin, the company streamlines the process of procuring and producing complex machined parts for OEMs and tier one or tier two manufacturers through its collaborative approach and commitment to automation. The company's manufacturing services include a broad range of capabilities, including prototyping, engineering, CNC machining, multi-spindle machining, thread rolling, fabrication, assembly, and many value-added services. ISO certified since 2002, JR Machine provides turnkey manufacturing services, such as inventory management and packaging to some of the most recognizable names in energy, defense and aeronautics, fire suppression, medical technology, hydraulics, heavy equipment, and auto racing. Learn more at jrmachine.com.