Inspiring a New Generation of Manufacturing Leaders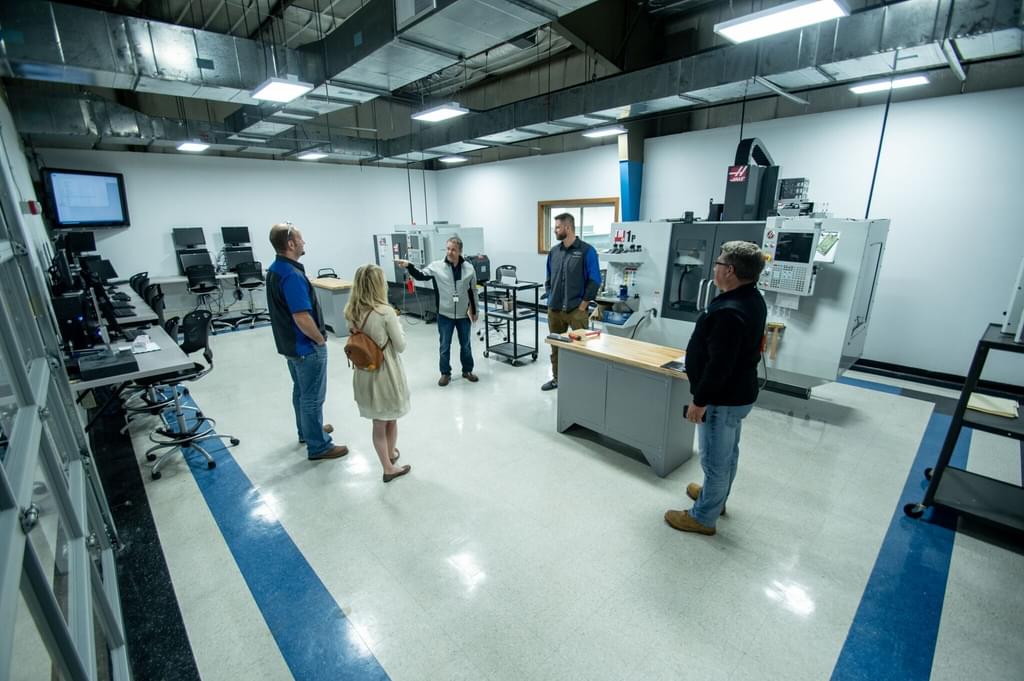 JR Machine expands its support of local industrial arts programs to Bonduel High School
An outdated, but persistent, stigma is often attached to manufacturing work. Thoughts of the early 20th century's dark and dirty industrial jobs conjure images of dangerous conditions and difficult labor, convincing many to steer clear of manufacturing careers in pursuit of four-year college degrees.
That perception, however, is far from the reality at JR Machine. The manufacturer offers rewarding, multifaceted work in a brightly-lit, clean facility equipped with automation and robotic technology.
Increasing awareness about the industry's high-tech reality takes outreach, and JR Machine is at the forefront of eradicating the "dirty job" stigma. The manufacturer recently teamed up with Bonduel High School's tech ed department to modernize its industrial arts program and drive interest among students.
JR Machine has been connected with the department for many years, providing shop tours to its students. However, as the company (and its need for skilled employees) has grown, so too has its support.
"One of our biggest challenges is finding employees with technical aptitude and the right work ethic," said Tim Tumanic, president of JR Machine. "Unfortunately, it seems with all of the tight budgets for schools, the industrial arts programs are the first to be hit with cuts and are completely strapped for resources."
This chronic lack of funding is what spurred JR Machine to support the Shawano and, most recently, Bonduel industrial arts programs on an annual basis. Since 2013, JR Machine has given about $150,000 in equipment, tooling, materials and textbooks, with the hope its investment gets students excited about STEM-focused career paths.
And what is exciting and motivating students most these days?
Travis Schindel, a technology engineering teacher at Bonduel High School says, "In this video game era, it's the technology."
Donation and development drive JR Machine's two-fold approach. It's installed new CNC equipment and supported the creation of a new CNC lab at Bonduel High School. Students are now getting practical experience that can be applied to a variety of jobs and degree programs, thanks to the state-of-the-art Haas CNC mill and lathe.
"We looked to mimic JR's facilities in our lab, making it clean, neat, and bright—so students understand manufacturing isn't a dirty profession," said Schindel.

The curriculum of the CNC program covers the basics of CNC machining, including an intro to G codes and M codes as well as milling and lathe operations. One of the most exciting parts of the class, its teachers say, is that it provides students with the opportunity to apply classroom math in a real-world situation.
"You can trick kids into it," Schindel said. "They don't even know they're doing it. They're accomplishing a task—not going to math class. They're making a part."
Schindel and Ben Warning, the program's other technology engineering instructor, say the overall goal of the school's tech ed classes isn't to turn students into professional welders, master machinists, or experts in construction, but rather provide students with a broad basis of knowledge to help them find a career they can be passionate about.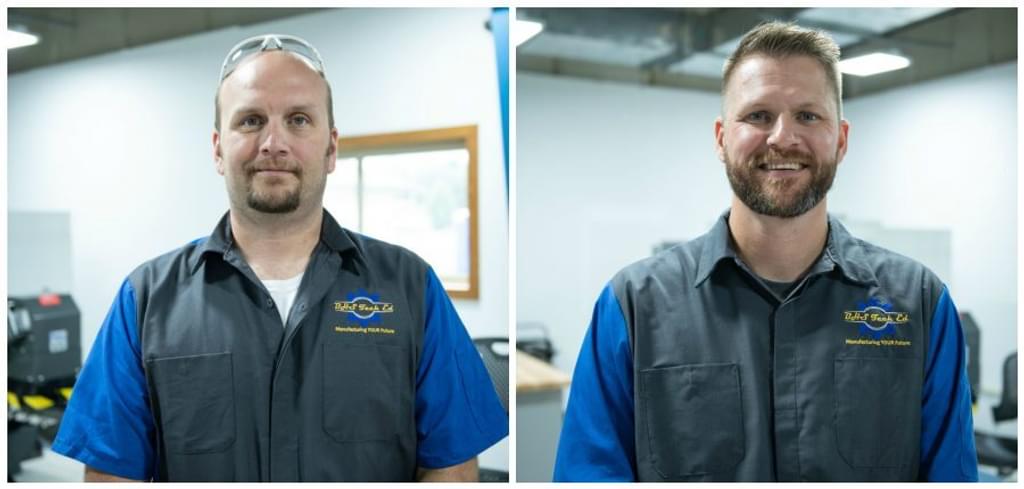 Pictured left to right: Travis Schindel & Ben Warning, technology engineering teachers at Bonduel High School
Completing the course also opens the door to a job at JR Machine. In fact, 10 of JR Machine's 34 employees were hired directly from high school CNC programs.
Students are typically employed as juniors and tasked first with cleaning and sweeping. This gives JR Machine's management the opportunity to see how the teens work within a shop atmosphere. As a senior, they work on machines part time until graduation, when full-time work is often offered.
"At 17 or 18 years old, they go right into a full-time job with a wage progression program," said Tumanic. "Within two years, they're making $18 an hour."
Alongside its aggressive wage program, the company provides bonuses and an extensive list of benefits, including an in-house workout room and financial guidance.
Citing his own experience, Tim Grimm, JR Machine's new project manager, noted that students should view entry-level positions as a springboard.
"I was a machinist and a tool and die maker—then I got into apps engineering and eventually sales," he said. "Students need to know they don't have to be a machinist their whole life. Once you understand the basics, other doors will open. You can become a programmer or fixture designer then progress into a position as a shop foreman or an apps engineer and from there, take on a role in management or sales."
So, what's next for JR Machine and Bonduel High School's CNC program?
JR Machine and the Bonduel tech ed department agree the next step includes outreach to middle school students, possibly developing curriculum to introduce the industry's variety of career paths to a younger age group.
"I liken the idea to the schools that are powerhouses in wrestling, basketball or football," Tumanic explained. "Why are they powerhouses? Because they start training the athletes when they're young."
Schindel believes high school is too late to expose students to the industry.
"Many of the students have already made up their minds about a career or their educational path," he said.
Schindel and Warning also said they'd like to see other area businesses become more involved in schools.
"With there being such a shortage of workers across the manufacturing field, businesses have to step up," Warning said.
"JR Machine isn't passively posting 'Help Wanted' ads in the newspaper," Schindel added. "They're securing new employees by being actively engaged in local industrial arts programs."
Tumanic admits the program may seem a little self-serving but says the end-all goal of the initiative is to make students more employable. "They can take these skills and go in whatever direction they choose," he explained. "If we get a single student every year out of each program, the investment is worth it."
More Photos from the Bonduel High School CNC Lab