JR Machine Invests in the Future of Manufacturing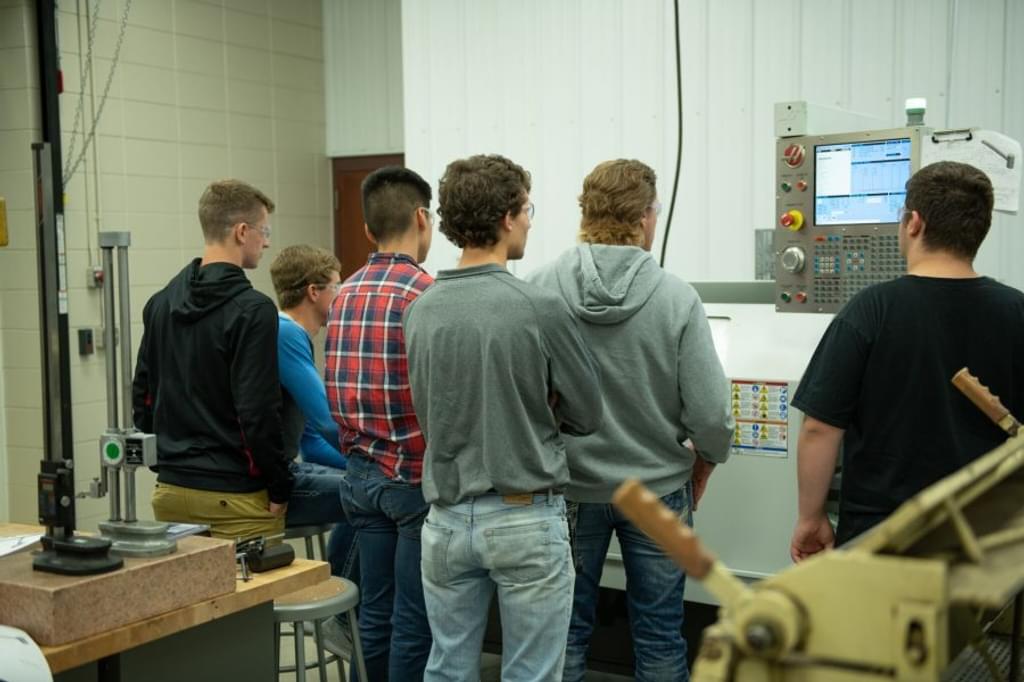 The rapidly-growing CNC contract manufacturer provides ongoing support to Shawano High School to develop the next generation of manufacturing leaders
The backbone of the nation's economy is nearing a time of crisis. The manufacturing industry faces the perfect storm of pressures, as a burgeoning economy is coupled with low unemployment and a large sector of the population on the cusp of retirement. In fact, some analysts predict 2 million manufacturing industry jobs will go unfilled in the U.S. by 2025. That large number underscores a trend known as the "skills gap," which has been widening in the years since the recession. Businesses across the country face difficulties filling open positions because there aren't enough qualified applicants.
The situation in Wisconsin mirrors the country as a whole. Its worker shortage across all industries is driven by two primary factors: historically low unemployment and baby boomers aging out of the workforce. The Badger State saw record low unemployment at 2.8% earlier this year, while the fastest growing part of its population was age 65 and over. It's created a hiring climate that's requiring employers to get creative and move past your average job fair.
Shawano manufacturer JR Machine, for example, is doing its part in helping close Wisconsin's "skills gap" by modernizing area high schools' industrial arts labs with advanced manufacturing technology.
"One of our biggest challenges is finding employees with technical aptitude and the right work ethic," said Tim Tumanic, president of JR Machine. "Unfortunately, it seems with all of the tight budgets for schools, the industrial arts programs are the first to be hit with cuts and are completely strapped for funds and resources."
This chronic lack of support is what spurred JR Machine to support the Shawano and, most recently, Bonduel industrial arts programs on an annual basis. Since 2013, JR Machine has donated approximately $150,000 worth of CNC machining equipment, tooling, materials and text books to revitalize area high schools' CNC labs.
Shawano high school's technology education students are now being trained on a state-of-the-art Haas Computer Numerical Control (CNC) mill and lathe, providing them with practical experience that can be applied to a variety jobs, industries and higher education programs.
The school's CNC program is designed to give students the opportunity to learn CNC manufacturing processes.
"Students are taught how to program and operate the CNC equipment," said Jason Eggert, a technology education teacher at Shawano High School. "I start by teaching them the basic programming skills and then move onto how the equipment operates. By the end of the class, they program and operate the machines by themselves."
This hands-on training, alongside shop tours and field trips with JR Machine to the International Manufacturing Technology Show, is dispelling common misconceptions about the industry and educating the students about the exciting and diverse career opportunities within the manufacturing field.
"Students often perceive the manufacturing industry to be hot and dirty work," explained Eggert. "When they operate CNC equipment and tour JR Machine, they find out how clean and enjoyable the jobs could be."
Completing the course also gives many students the opportunity to begin a career in manufacturing with JR Machine. In fact, 10 out of JR Machine's 34 employees have been hired directly from Shawano High School's CNC program. Working alongside senior machinists, the high school hires are further trained on first shift for six to nine months and then moved to second shift. New employees are also often put on equipment that is brand new as JR Machine is hiring and purchasing equipment simultaneously.
"JR Machine is a firm believer in giving back to the community in which our company operates," said Tumanic. "It is an honor to support Shawano High School with resources that are changing students' lives and enabling them to reach their full potential in high-paying, advanced manufacturing positions at JR Machine and other companies."
More Photos from the Shawano High School CNC Lab