Celebrating 30 Years of Reinventing Contract Manufacturing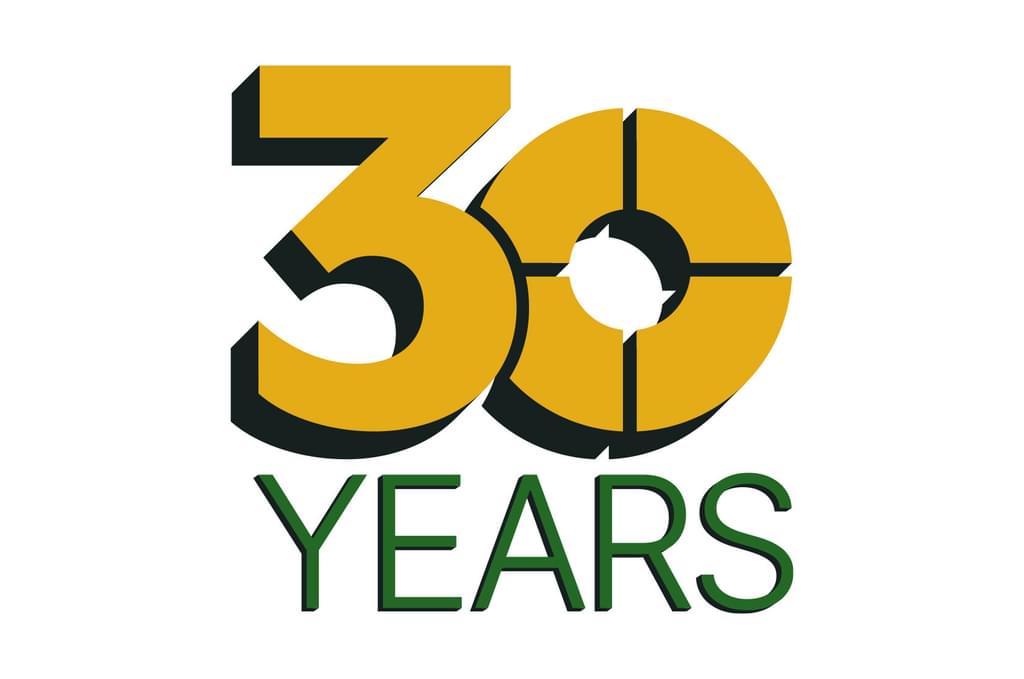 A lot happened in 1992…the Chicago Bulls won their second NBA championship, Johnny Carson ended his 30-year run as host of the Tonight Show, CDs replaced cassette tapes as the preferred music format…and a little machine shop got its start in Shawano, Wisconsin. Today the company reinvents precision parts contract manufacturing for notable companies across America.
Business With a Handshake
When Tim Tumanic bought JR Machine from his stepfather in 1992, the company was operating out of a garage stall at the local Chevy dealer. Tim took out a $30,000 loan to purchase some equipment, leaving him with about $700 in his checkbook. It was a rather humble beginning for JR Machine. With Ingersol Tractor Company and Ariens Lawn Equipment as customers and a couple of workers, the company made steady progress.
In 1994 Tim found a local businessman who agreed to build a facility at our current location and lease it to JR Machine for five years before buying it outright. This arrangement would allow the company to invest in machining equipment. Like many business deals in those days, it was done on a handshake. Our initial space was about 2,500 square feet, and today we're approaching 40,000 square feet.
On the Road to Growth
Like most success stories, there were a few potholes on the road to success. Once JR Machine was established in our larger facility, we had some nice growth and everything was running smoothly. However, beginning around 2002 we started losing business overseas due to the commodity parts we were machining.
We quickly realized we needed a new direction. We brought in a turnaround consultant to help us address the financial side of the business by developing better costing models and pricing strategies. We also knew we needed to take a hard, honest look at what we were doing operationally and how we were going to position the business going forward. With so much work leaving for China and Taiwan at the time we knew we needed to think about – and market – our business differently.
To beat our foreign competition, we ultimately decided that we needed to be a service company that just happens to make parts. The key to our success would be giving our customers a higher level of care and communication than they could get anywhere else.
We also needed more structure, so beginning in 2000 we committed to the strenuous task of becoming ISO certified. It was a huge undertaking to get that first ISO certification. We became one of the very few smaller companies to be certified at the time, and we continue to be certified to this day. Since then we have earned our AS9100 certification for the aerospace industry and ITAR compliance for the defense industry.
DMG MORI for the Win
Another pivot point for JR Machine's success happened in 2006, when we bought our first DMG MORI machine. Until that point our shop was a mishmash of whatever machines and tooling we could get our hands on. With the DMG MORI, the output and accuracy, with virtually zero downtime, was incredible. We ran that machine for over 10,000 running hours and the only work we needed to do to it was change a few light bulbs.
That's when we decided that we were going build a production platform based on the DMG MORI platform. Today we're one hundred percent a DMG MORI shop. We replace our machines every 10 years because we feel that's where the technology curve comes in. Our oldest machines right now were purchased in 2012 and we will replace those with six new machines by the end of the year.
Beyond their reliability and accuracy, having uniform equipment has streamlined our entire approach to production. Our technicians can work on any machine. It helps accommodate our approach to cellular machining, and makes training and maintenance much easier.
CI Ingrained in Our DNA
While our equipment, business strategies, and perhaps a bit of luck have been important to the success of JR Machine over the past 30 years, nothing has been as crucial as building a culture based on continuous improvement. We've instilled a mindset within our entire team that nothing is perfect, and we can always find ways to improve. We use many metrics to monitor our success along the way and have various continuous improvement projects each year included in our internal scorecard.
A telling example of our continuous improvement mindset was on display during the COVID pandemic. We used that time to work on the business and identify emerging industries we wanted to work with, such as aerospace and green energy. When business slowed, we focused on obtaining our AS9100 certification for the aerospace industry and conducted multiple testing weeks to learn how to best machine nickel-based superalloys. We also rebranded with new messaging and a visual identity that conveyed our sophistication and commitment to streamlining the production of complex parts for our customers…all the things necessary to enter new markets.
Future is in Good Hands
In many ways the last 30 years at JR Machine have flown by, and we know the next 30 will too. To support our long-term growth, we are scaling up our leadership group by developing a second-tier management team. We're promoting and training from within because we know the people who work here understand the business. They understand the culture and they understand what our customers need and expect from us.
Although we started with just two employees and a rented garage stall, today we are 40 people strong with nearly 40,000 square feet of production space. One of the most important lessons we learned along the way is that nothing stays the same. We're proud of our beginnings, our people, our parts, and our ability to reinvent the business.
As we celebrate 30 years of JR Machine, we would like to give special thanks to every customer, supplier and employee that has been part of our journey and contributed to our success.