Testing Week: 3 Key Takeaways from Machining High-Temp Alloys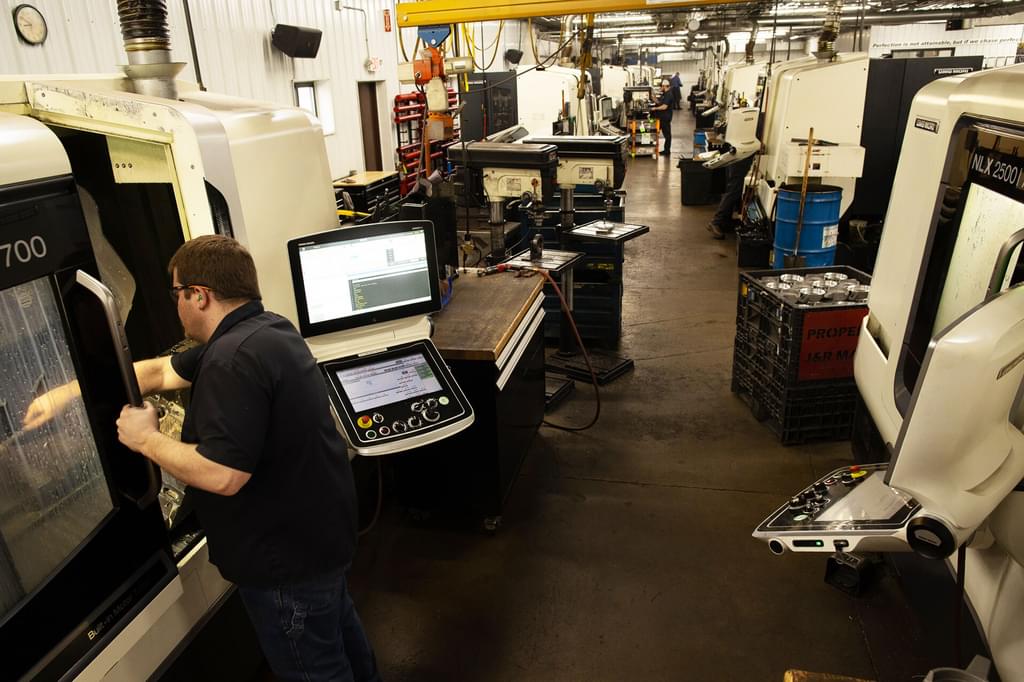 Last month, we held our first testing event in the shop where we put a selection of tooling through a battery of performance tests on high-temp alloys often used by the aerospace industry. The intention behind the endeavor was to conduct a side-by-side comparison, allowing us to identify which tools performed best for various processes. We designed a complex part specifically for this event, requiring turning, milling, threading, boring, grooving, and tapping processes.
High-temperature alloys are known for being challenging to machine, making the testing event a valuable opportunity to learn more about their differences, without being under a delivery deadline. During testing week, we machined the test part in Inconel 718 (662 & 663), Inconel 625, SS 316, SS 15-5, Hastelloy 276, Monel 400, and titanium. It was a big investment for all involved due to the cost of materials, labor, tooling, and taking a machine off the production line. But we feel that the outcomes are well worth it.
We learned a great deal about how to work with high-temp alloys more efficiently and provided our machinists with insights on what to expect when working with materials with varying degrees of softness or hardness.
Three Insights on High-Temp Alloys
We gleaned new insights from testing week that we will implement in our daily operations, ensuring the best precision parts and lead times for any of our customers — but particularly those in the aerospace and defense industries. These are the top three insights we took away from the event:
1. High-temp alloys are indeed tricky to machine — but we are up for the challenge. Take Monel, for example. It is a soft metal, but it also has a lot of nickel in it, so it can be very abrasive on tooling. That presents challenges when choosing the right kind of tooling for the application. Our event helped us to identify the best way to approach Monel and similar materials, and which tools worked best for specific applications.
2. Our tooling vendors are really good at what they do. It was great to confirm that the tools we are already using are well-suited for the task at hand. We can easily refine our tooling selection, based on the complexity of the part, the material, and the processes required.
3. We established a baseline for tool selection. Specifically, for turning, drilling, and tapping, we now have a baseline to match the best tool for the job. This streamlines our process for working with high-temp alloys. Often, when approaching a new part in a high-temp alloy, we produce a test part in a less-costly material to identify any issues upfront, select the best tooling, and to adjust the order of processes or other minor adjustments. While we will likely continue to do this as part of our quality assurance process, we are now armed with more information about which tooling to start with, saving time and costs, translating to a better experience for our customers.
A Better Partner for all our Customers
Testing week was a great success. Not only did we learn a lot about high-temp alloys that will benefit our aerospace and defense customers, but we also learned ways to improve our processes for our customers in other industries. Even more important, we confirmed that our existing processes are working. Based on the results from the event, we will make a few adjustments and switch up some of our tools, but we were thrilled to see there were no glaring issues.
Ultimately, the research and investment that we put into this testing week will improve our efficiency, speed, and part finishes. These improvements all add up to faster turnaround times and greater value for our customers.
JR Machine Streamlines the Production of Precision Parts for Aerospace OEMs
The knowledge we gained from the testing event helps us better serve our customers, especially those in the aerospace industry, in terms of efficiency and turn-around time. JR Machine is certified in ISO 9001:2015 / AS9100, ITAR, provides material traceability, and uses the latest automation technology. If you are interested in finding the ideal partner for aerospace manufacturing, get in touch. JR Machine can help streamline your production process with more consistent and accurate results.