Our Testing Week Was Designed to Determine the Best Tools for Machining Aerospace Alloys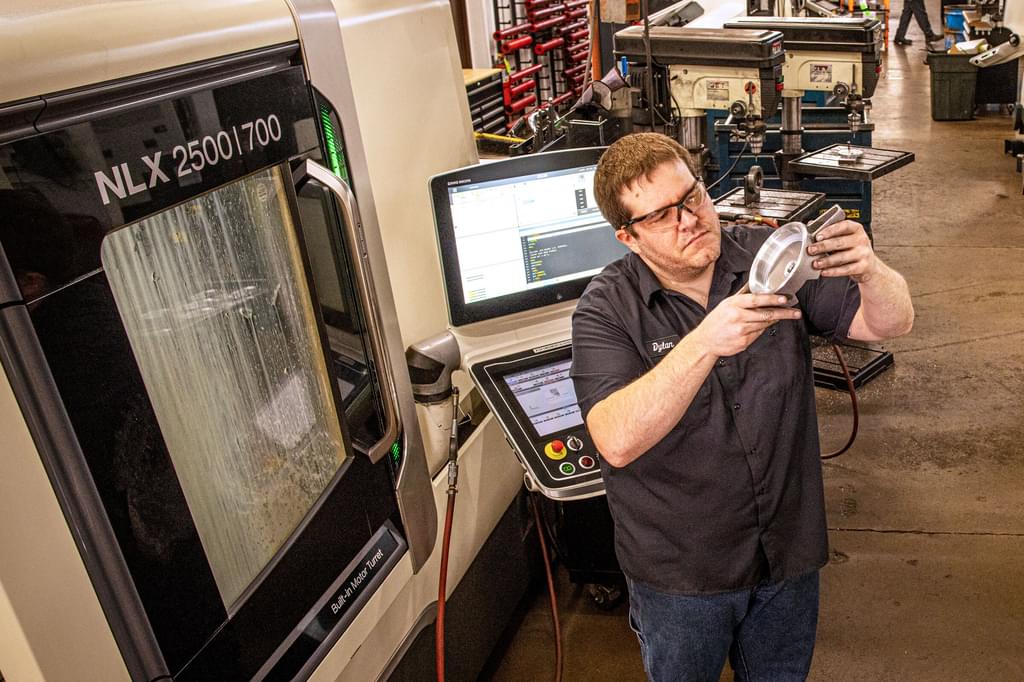 Aerospace alloys are notoriously difficult to machine. Last week we set out to do something that most machine shops haven't done before. Working closely with our local tool distributor, we invited select CNC tooling manufacturers to join us on the shop floor to identify the best tools for a variety of machining processes on a range of aerospace alloys.
To make sure we covered our bases, we designed a test part that required turning, milling, threading, boring, grooving, and tapping processes. We designed the part to be machined from various high-temperature aerospace alloys, including stainless steel, titanium, Inconel, Monel, and other nickel alloys.
The tooling manufacturers provided their best tools and JR Machine provided the raw materials. We ran the tests on a multi-tool, multi-axis, live-tooling DMG MORI turning system. Ultimately, the goal was to identify which tools performed the best on each individual process and material.
Test data makes JR Machine more efficient at machining aerospace alloys
Not only was this a great opportunity for our CNC tooling partners to see how their tools performed in realtime, under different scenarios, but it was an even better opportunity for JR Machine to identify the best tools for each process and material for the work we do in the aerospace industry. We are always looking for ways to drive down costs for our customers while delivering the best precision parts with the fastest turnaround available. Our testing week was a proactive approach to gain unique insights that help us do just that, allowing us to bring even greater value to our customers.
During the event, we tested a variety of aerospace alloys, including, Inconel 718 (662 & 663), Inconel 625, SS 316, SS 15-5, Hastelloy 276, Monel 400, and titanium. These alloys are known for being tricky to machine because they work harden and tend to wear down tools quickly. During our testing, we were able to identify the best tools for these individual alloys and machining processes, so the parts we deliver are as consistent and accurate as possible.
Quality assurance is part of JR Machine's culture
As part of JR Machine's commitment to continuous improvement, we believe it's important to be at the forefront on the latest tooling technologies. Over the past ten years, there has been a lot of improvements made in CNC tooling, and it isn't enough to just keep using what you know because it has worked in the past.
JR Machine has the skill and the knowledge to take on tough aerospace projects that other machine shops might struggle with, and we know what OEMs are looking for. Not only do we have the required third-party certifications: ISO 9001:2015 / AS9100, ITAR compliance, and material traceability, we combine that with the latest automation technology and our skilled machinists, who have experience working with the most demanding materials.
JR Machine streamlines the production of precision parts for OEMs
We are extremely pleased with the results of our tool testing week and have gained a lot of valuable knowledge from the tests we ran. With this testing data, we'll be better positioned to efficiently produce the most accurate parts on the market, making us an invaluable partner to aerospace OEMs across the nation. If you are interested in seeing how JR Machine can help streamline your production process with more consistent, accurate results, please get in touch.